Browse Products
Media For Dye/Pigment/Latex/UV ink:
---
Media For Solvent/Eco-Solvent ink:
---
For Solvent/Eco-Solvent/Latex/UV ink:

Factory address:
Economic Technology Development Zone
Weifang City, Shandong Province China
TEL:+86-536-8876750
FAX:+86-536-8876751

Product
CM-807JS: Semi-Glossy 65% Polyester 35% Cotton Blend Artist Inkjet Canvas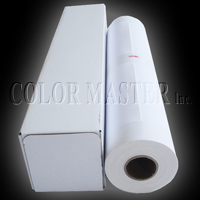 Product Description:
● A semi-glossy coated fabric with prime coating,excellent water proof property,vivid colour
● Composed of 65% Polyester 35% Cotton Blend
● Can be stretched without cracking
● No lamination required

Specifications:
● Weight: 390g/sqm
● Thickness:550mic
● Roll Size: It is available in 18Mt rolls from 17", 24", 36", 42", 44", 50", 54" & 60" wide.
● Packing: Standard Carton Box
● Payment Terms: T/T, L/C at sight
● Minimum Order:100Rolls

Applications:
● Ideal for photo and digital fine art reproductions
● Indoor and outdoor signs, banners,backdrops and murals,commercial/residential
decorations etc.
● Framed and mounted art
● Solvent inks and Eco-Solvent inks are Applicable
● Compatible with most Solvent ink and Eco-Solvent ink printers.